KWFinder has been recommended by so many professionals for keyword research. We personally use this tool.

Mangools has a bold reputation of making easy to use applications!

The pricing is somewhat reasonable. However, there are other SEO tools which are a bit cheaper.

Overall, KWFinder is a top-tier keyword research tool that is preferred by many SEO experts in the market. If you don't have a low budget and want to work with a high-quality tool, then KWFinder might be for you.

Pros
Best user interface in the industry for a keyword research software.
Cloud based software – no need to install, access on the go.
Different approaches to collect keyword information giving you unique keyword opportunities
Best customer service and support in the industry

Cons
Credit limit.
SERP Checker tool isn't customizable. But yet again, what keyword research tool is is?
No multi-tab keyword support
Look, we get it. Ranking for specific keywords isn't so easy anymore!
One of the main reasons people fail to rank on the search engines is because of the failure to use the proper keyword research tools. We recently became aware of this and this is why we wanted to create this KWFinder review article for you.
This is because KWFinder is a recommended keyword tool for beginners, owing to its minimalistic and straightforward user interface.
Likewise, if you are a seasoned blogger looking to improve your organic search traffic, this keyword research tool is your best bet. In fact, some of the biggest companies recommend using KWFinder for your keyword research.
They include:
Adidas
Skyscanner
RetailMeNot
Also, SEO gurus such as Brian Dean, founder of Backlinko, use KWFinder.
Before we start this KWFinder review, let's highlight some basics that will enable you to use this keyword research tool seamlessly. We will look at the importance of keywords and long-tail keywords.
If you know a lot about keywords and long-tail keywords already and don't want to see a brief overview of them, click here to scroll down to the actual start of the KWFinder review :)! If you're smart and decided you want to use KWFinder but want a discount, refer to this section here to find information about the deal we scored you!
Main Features of KWFinder
When it comes towards making a decision to use a product, features are everything! That's why in this section of the KWFinder review, we will be talking about the best features we came across.
Intuitive Metrics
If you do SEO, you know that the information you receive from search engine optimization tools, such as KWFinder, is vital. And, when it comes to delivering information, we're happy to assure you that KWFinder goes above and beyond.

Here are the following parameters KWFinder gives you within your keyword suggestion list:
Keywords: These are the most relevant keywords against your seed keyword.
Trend: Shows the relative popularity of the keyword over time.
Search: This is the number of times the keyword has been searched per month.
CPC: This is the average cost per click in Google Ads. It is the amount advertisers pay to rank for the specific keyword .
PPC: Pay Per Click competition level in Google Ads. The higher the competition, the higher the value of the keyword.
KD: This is the overall Keyword Difficulty. Keyword difficulty ranges from 0 – 100 with the anything more than 85 considered impossible and 0 -39 considered easy to rank for. I try to use keywords that have a score of 1 – 30. Here is a detailed chart showing how KWFinder measures the difficulty.

| Difficulty | Easiness |
| --- | --- |
| 0 – 14 | easy |
| 15 – 29 | still easy |
| 30 – 49 | possible |
| 50 -69 | hard |
| 70 – 84 | very hard |
| 85 – 100 | don't do it |
Metrics are also an important feature to offer with any keyword research tool.
The metrics returned by KWFinder are:
URL: These are the sites that appear on the first search page for the keyword. In our case, MOZ is the first result for "seo tools" keyword followed by Backlinko.
DA: Domain Authority is the prediction of how well a domain will rank by evaluating total links, linking root domains, etc.
PA: Page Authority predicts how well a page will rank owing to its total links and other factors.
CF: Majestic creates citation Flow, which predicts how useful a URL is based on how many sites link to it.
TF: Trust Flow is developed by Majestic, and it focuses on link quality. The more links you have to quality links, the higher the score, and vice versa.
Links: This is the number of backlinks to the specified URL
FB: It is the number of Facebook shares
LPS: overall link profile strength developed by Mangools. The company behind KWFinder keyword research tool.
EV: Estimated number of monthly visitors to a specific URL.
Keyword Competitiveness And Search Volume
The more information you have about your competition, the easier it is to outsmart them. Nearly everyone who has ever written a KWFinder review brings up the fact that KWFinder ranks keyword competition.
So, you'll be able to see if the competition for your dream keyword is low, medium, or high.
This is incredibly important to know for a variety of reasons. Now you can efficiently decide whether or not to pursue a keyword before you sink half your marketing budget into it.
Before finding this tool, I had to spend countless hours analyzing my keywords to generate a similar ranking system. Now, with KWFinder, all one has to do is click once on the keyword!
Keyword Suggestions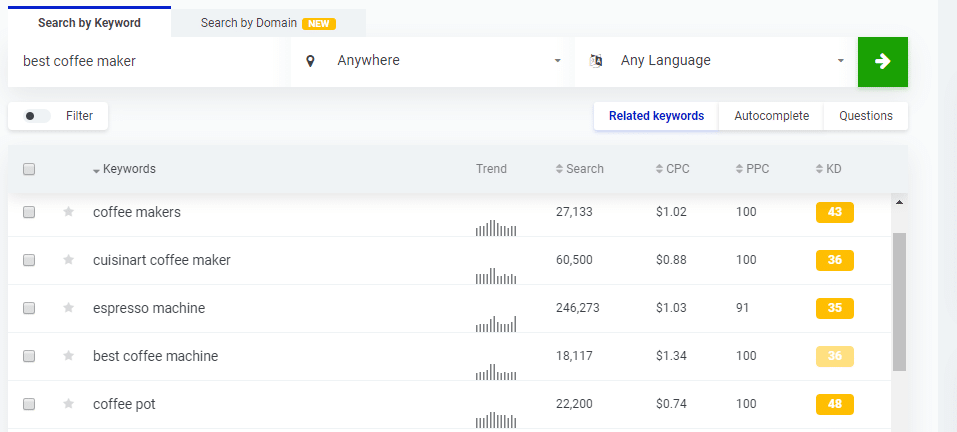 KWFinder acts as your guide and your mentor. This is great, especially if you're relatively new to the world of SEO.
KWFinder doesn't just offer suggestions for similar, untapped keywords. It also gives you access to Google SERPs, information about domain authority, and even facts about social media postings.
Additionally, KWFinder has an autocomplete feature, which can help you to generate both long and short tail keywords (remember, you need to have a mix of the two.)
Best of all, KWFinder even makes suggestions for your keywords based on different countries and languages. If you're playing to an international market, this kind of information is invaluable and something your competition is likely to overlook.
Finally, if you're working within an industry or niche that's heavily influenced by trends (like clothing or even website design) you'll find KWFinder is especially useful. This is because it displays the most popular iteration of a keyword within the past year.
Keep in mind that you don't want to be using last year's keywords in this year's content!
Filtering Options
When you're looking for keywords, KWFinder makes it so easy by its filtration options. For example, if you're looking for longtail keywords, simply just put in the minimum number of words you want returned!
Or how about filtering out keyword difficulty? You can do that too!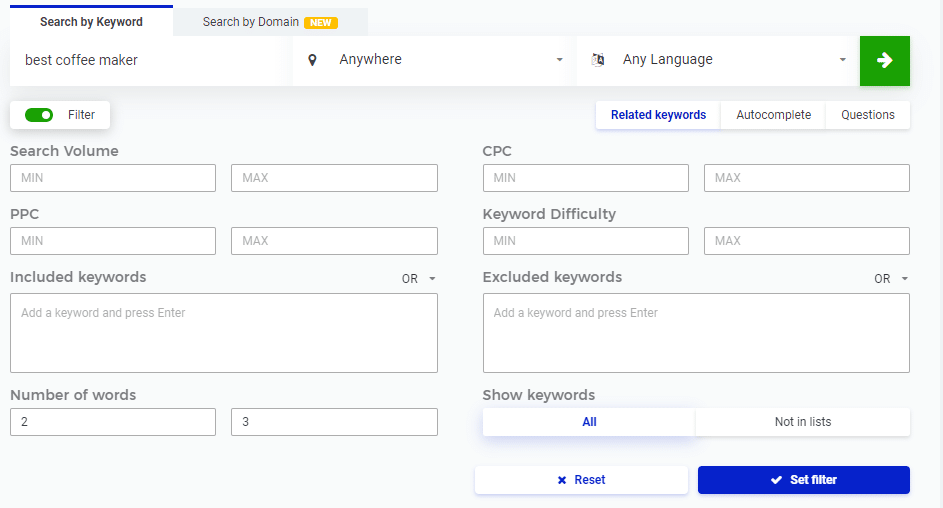 Keyword Search History
We often need to go back and view the keywords we were looking up. But what do you do when you cleared your browser's cookies, cache, and history? You use KWFinder's search history feature of course!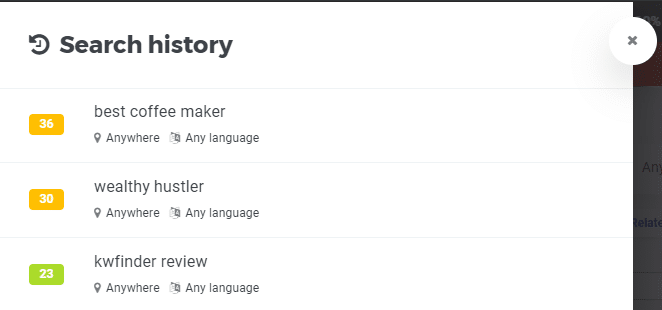 Search By Domain
Need to spy on a competitor or just pull all your keywords you're ranking for from your website? Use KWFinder's "Search by Domain" feature and do just that!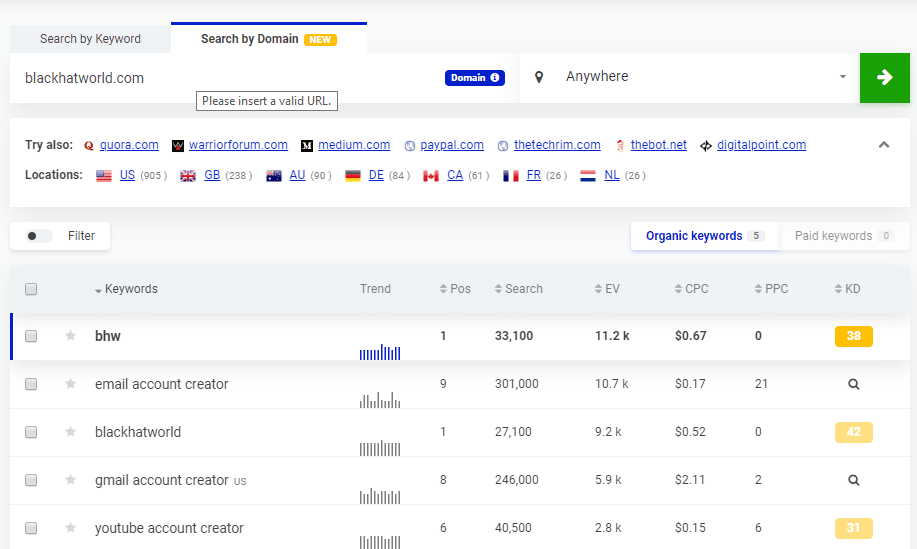 Search by Location or Language
Yes, KWFinder even allows you to customize your keyword research towards localized results. So, if you are a realtor in Sacramento California and optimizing your landing pages in spanish, you can find those exact keywords!


Main Benefits of KWFinder
A great experience should always be the aim of an excellent company. In this case, we believe KWFinder delivers the best experience possible with their user interface, information, flexibility, excellent customer support, and artificial intelligence for keyword suggestions.
User Interface: Both Beautiful and Organized
Have you ever navigated to a site, saw the user interface is terrible, and then just bounce off? Awful! Right? Well, fortunately, KWFinder comes in a very minimalistic and easy to understand interface.
As such, it is regarded as one of the ideal keyword tools for beginners. The flat design enables not only beginners but professionals to digest information rapidly.
Besides, KWFinder has gone a step further and explained some of the terms that would make beginners shy away. In comparison with other tools such as Ahrefs, it's no brainer that this keyword research tool is miles ahead.
Additionally, KWFinder allows you to save a list of your keywords. Convenient, right? So, whatever time of day, you can easily access them.
And in a bid to support a productive team, it allows you to import and export keywords. As such, every member of the team will have a clue of which keywords to use ultimately saving time.
Insights: Use These to Beat Competitors
In addition to providing you with vital information that sets you apart from your competitors, KWFinder goes a set further and gives you other insights such as competitiveness, search volume, etc.
Why is this important? You can find out whether the keyword you are targeting is worth investing in and know whether the competition is high, medium, or low.
And, this keyword research tool ranks suggested keywords in order of difficulty. As mentioned above, the easiest to rank for is usually given score 0-9 while impossible to rank keywords are given a score between 85 and 100.
Before stumbling on KWFinder tool, I spent countless hours analyzing my keywords to generate a similar ranking system. But thanks to KWFinder, all I have to do is click once on the keyword
Flexibility: Use KWFinder Anywhere
Some applications are not meant for desktop, and a keyword finder tool is one of them. KWFinder is a web-based tool that comes with enormous benefits.
One, you will not need to install it to your computer. As such, you can access it via any computer; be it your neighbor's or girlfriend's laptop.
Furthermore, KWFinder does not require you to connect to your Google Adword account. Just enter your email, and you are good to go. This is one reason that it's becoming a favorite for most professionals.
Customer Support: Being Nice is Normal
There are many channels through which you can reach their support team; they include email, live chat, and blog articles.
Fortunately, their support team is well versed with the keyword suggestion tool. As such, you can rest assured that the team will answer any question that you have.
Their live chat option is also stellar since you get a response within a matter of minutes. It is active during workdays.
Keyword Suggestions: The Prime Feature of KWFinder
KWFinder is a great keyword tool for beginners. Why? It acts as a mentor in some way because it offers suggestions that you'd otherwise have to pay for using other keyword suggestion tools.
Not only does it focus on suggestions, but provides you vital information such as keyword difficulty, search volumes, social media shares, trends, etc. with such crucial information, you are bound to make well-informed decisions.
Not to mention its ability to provide you suggestions based on location and language. This is critical information for international marketers out there. And in a bid to keep you up to date with trending keywords, it provides you data on most searched terms every month within 12 months
KWFinder's Pricing & Plans
This is perhaps one of the important section in our KWFinder review, especially if you are bootstrapping.
KWFinder has three different plans and they are basic, premium, and agency. KWFinder also uses a credit system to limit the data request per day, according to the respective plan. However, if you are running on a budget or just want to try out KWFinder, you can get a 10 day trial.
Basic Plan
Keyword lookups / 24 h: 100
---
Keyword suggestions / search: 200
---
Competitor keywords / search: 25
---
SERP lookups / 24 h: 100
---
Tracked keywords daily: 200
---
Backlink rows / 24 h: 2,000
---
Site lookups / 24 h: 20
---
Simultaneous logins : 0
Premium Plan
Keyword lookups / 24 h: 500
---
Keyword suggestions / search: 700
---
Competitor keywords / search: Unlimited
---
SERP lookups / 24 h: 500
---
Tracked keywords daily: 700
---
Backlink rows / 24 h: 7,000
---
Site lookups / 24 h: 70
---
Simultaneous logins : 3
Agency Plan
Keyword lookups / 24 h: 1,200
---
Keyword suggestions / search: 700
---
Competitor keywords / search: Unlimiited
---
SERP lookups / 24 h: 1200
---
Tracked keywords daily: 1,500
---
Backlink rows / 24 h: 15,000
---
Site lookups / 24 h: 150
---
Simultaneous logins : 10
Unless you are trying out the effectiveness of KWFinder, we wouldn't recommend settling for the free plan. At least subscribe for the basic plan if you are on a budget.
However, if you have the cash, don't hesitate to subscribe for the premium plan. Besides, it is also a recommendation for large businesses.
Although the credit system used by KWFinder might seem like a drawback, the good news is that the credits are refilled daily, unlike tools such as Long Tail Platinum Cloud that provides a monthly quota.
KWFinder Discount Code
Everybody likes saving some penny, right? Well, luckily we have a discount code just for you! This saves up to 20% of your monthly or annual expense. Check out the chart below and choose a plan that fits your bill.
What Other People are Saying About KWFinder
Well, while KWFinder definitely works for top brands, with unlimited financial muscle, you may be questioning its effectiveness for an ordinary website owner?
Let us check out what other users are saying about the tool after using it themselves:
Our Overall Conclusion of KWFinder
Search Engine Optimization can be a hard puzzle to solve for many. Luckily, with the right tools and a healthy supply of up to date knowledge (subscribe to our newsletter), anybody can solve this jigsaw.
KWFinder is one such tool. As we have discussed, keyword research is crucial to the success of your overall SEO and digital marketing strategy.
Over 90% of all Internet activity starts with an entry into a search engine, like Google or Yahoo. Don't believe it? Think about your own behavior when you're looking for something online.
Remember that 3/4 of users only look at the first page of search engine results. This means that not only will potential customers never even make it to your website, but they'll have checked out an entire page full of your competition.
But sometimes, even including relevant keywords in your content isn't enough to get you to the first page. You always need to be a step ahead of your competitors by finding that 'golden nugget' in your niche, and this is where KWFinder and its intelligent researched-based system comes in to play.
How to Get Started With KWFinder
By now, you understand how keywords are a vital component for the success of your online business. And not seed keywords, but long tail keywords.
In this KWFinder review article, we will look at how you can use the keyword suggestion tool to come up with profitable yet low competitive keywords. So, let's dive in and create our KWFinder account.
Creating a Free KWFinder Account
Before you can come up with many keyword suggestions, you need to create a 10-day free trial account with KWFinder. The process is a piece of cake and takes you not more than 20 seconds.
Start by clicking the blue button that says "Start 10-day FREE trial"
Enter your email and desired password. Upon successful registration, they'll require you to verify your email. Once verified, you can start using this stellar keyword finder tool.
Upon successful registration, they'll require you to verify your email. Once verified, you can start using this stellar keyword finder tool.
Note:
The free trial account is limited; you can only do so much.
Finding Long Tail Keywords
Now that we created a free trial account, we can show you a little bit about how keyword research is done with KWFinder! All you need to do is enter your desired keyword in the search back, choose your desired location, language, and click "Find Keywords."


KWFinder will display the results of your specific search. For example, we used the term "seo tools." KWFinder will then provide you three options. They are: "related keywords", "autocomplete", and "questions".






Thank You for Reading our KWFinder Review
There you have it folks, a detailed KWFinder review. I am sure by this point you've had those 'aha' moments. Well, I had them too. Who knew SEO could be a piece of cake?
I hope this KWFinder has been of help, and I believe your journey to revamp your keyword strategy will not be in vain. I can guarantee that it will be advantageous.
Keywords aren't the only factors that will dictate your online success. As such, you ought to master skills such as how to master YouTube, marketing niches, etc.
Equally important is to have a tool that tracks your search engine rankings. Head over to our SERPWatcher review article for more insights.
As always, keep checking back with us at least once a week for the latest in marketing guides, reviews and everything in between.
Together, let's take your site to the first page of Google.
Frequently Asked Questions About KWFinder
How can I use KWFinder for free?
Create a 10-day trial account which gives you a maximum of 3 main keyword and 3 SERP lookups daily.

Do I need to connect my Google Adwords account with KWFinder?
No, you register using your email account.
KWFinder says I have reached my daily keyword difficulty evaluation; what should I do?
Although you can continue doing the keyword research, the result will be worthless. As such, wait for the 24 hours to expire or upgrade to the next plan.
Why not just use the Google Adwords Keyword Planner Tool?
Google Adwords provides you monthly insights of a specific keyword and doesn't provide you awesome keyword metrics such as keyword difficulty. Also Google's Keyword Planner doesn't give precise results. For example, their tool might tell you that a specific keyword is getting "50,000 – 100,000" searches per month. Whereas KWFinder would tell you "97,600" searches per month.